A new stained glass display
What do you need when the sun isn't around to backlight your stained glass items you have hanging in the window? Better yet, what do you do when that stained glass lives in Long Meadow Farms quilt shop and needs to be backlit all the time? You build a lighted display thing-a-ma-bob for those very items that's what you do and that's what we did.
I had previously built a couple of three panel folding "walls" to be used as displays for her shop and at the various shows she attends so I appropriated one of these, brought it down to my workshop in the basement and proceeded to cobble up something that would show off all her beautiful stained glass items she makes and the sun wouldn't feel so obligated to hang around in one place anymore (not that it did anyway).
Once the framework was redone, I brought it back to the quilt shop and she covered it with a white opaque type of material. Now we had to figure out a way to backlight the whole thing and make it so it could be taken down, carted to a show and easily put back up again. That's the secret to doing shows and running a shop at the same time. When a show comes around we steal what we need from the shop including whatever additional displays are required in addition to what we already have stored at the house and everything has to be able to be setup quickly and efficiently. If something isn't, then it gets rebuilt in such a way as to make it so.
Enter a couple of cheap shop-lights, a triangular piece of plywood, some chain, a couple of pairs ofsmall angle brackets, a three outlet extension cord and viola!…we had ourselves a good looking stained glass display: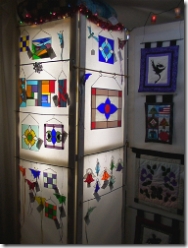 Although this isn't the best picture of the display it does show all of it. Behind the lit panels are two dual bulb shop-lights you can pick up at any hardware store for about $10.00 to $15.00 (bulbs extra of course) and these are hanging lengthways, each hung by a pair of chains that are attached to a triangular piece of plywood that is screwed to the top of the "V" that does double duty as a shelf for a few of the smaller size (lap or crib) quilts. It was a hit at the Wooden Horse Arts Guild's Christmas show that Laurie attended 2 weekends ago and it even got her picture (standing by the display) in the local paper. Guess we did good huh?
Now the display sits at the shop and does it's job of properly getting the attention of anyone who stops into browse around. There definitely is much to be said about doing things yourself.