A Radioactive Egg Salad Sandwich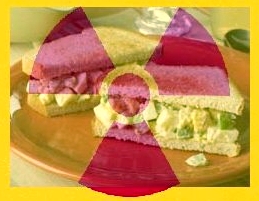 Of all the tests I have gone through since enrolling with the Veterans Administration in pursuit of various possible reliefs of service related medical problems, I just recently went through the strangest one yet. Of course lying on a long, extremely hard, extremely narrow table that shoved me forthwith into some sort of scanning machine wasn't unusual in the least. It was what I had to accomplish in preparation of this particular test that was rather unique:
I had to eat a…
Radioactive Egg Salad
Sandwich!
To wit:
What is a Gastric Emptying Scan?

We will ask you to swallow some food (usually an egg salad sandwich) containing a small amount of radioactive material. The food will travel to your stomach, and we will take a series of pictures tracking it as it passes into your intestine.
It did taste good though even though there wasn't any coffee to go along with it and this was at 8:00 in the morning. I got through the no coffee part though with only minor tremors and didn't threaten the medical tech who was running this adventure in isotope-laced cuisine with severe bodily harm more than a couple times as I recall. I do have a difficult time going without coffee in the morning despite the interesting choice of breakfast items.
Either way, I got through it alright and I was able to hit the road around 11:15 am or so and once a hamburger (the non-radioactive type) from one of the local fast food joints was wolfed down I rolled onto 91 north and was back up in Stove Pipe City by 2:00 pm and so far none of my body parts have started to glow yet. We shall see when I make my usual 3:00 in the morning run to the reading room before I can safely affirm that all of my various pieces/parts are non-illuminated.
Now I have to think here—I have two more tests to go in their attempt to remedy this particular service related malady of mine so I have to wonder…
What are they going to cook up next? 😛