The JT Evening News 09-21-07
Welcome to the second edition of the JT Evening News (published whenever I feel like it) where all the news is usually about doings at Just Thinkin', life in general and completely subjective on my part.
***************
First Posts I
The First Posts list is gaining speed and bloggers as they not only dig out those first posts of theirs but are tagging their friends and fellow bloggers as well. I'm getting one or two pingbacks a day now and just about every blog I visit that has a first post type post therein, I find that the blogger has tagged their friends to join in the "project". If that's not cool I don't know what is. But that's not all this small project seems to have started. Check this out…
***************
First Posts II

Janet C. of Life In Westcliffe honored the First Posts project with it's very own button as seen at the left. This button will be adorning one of the sidebars (haven't decided which side yet) embedded with a link to the First Posts list. This will allow two things to happen
Anyone who is curious can easily find out what the heck is going on with this and hopefully join in the fun and…

Everyone who has already participated and published that first post can check to make sure I added their name to the list and if not, will give them the opportunity to call me rotten names and dirty words. If they're really good rotten names and dirty words I'll apologize profusely for the oversight and duly add them to the list so start practicing. 😛
My thanks to you Janet, I will display it proudly. 😀
***************
The Readers First award
While perusing around my incoming links this morning, much to my surprise I found out that Ron Heureca and the Reader Appreciation Project has honored my small corner of the Blogosphere with the Readers First award for September of 2007 along with these other folks, some which you may already know:
Vivien of Inspiration Bit
Liz Strauss of Successful Blog
Shawn Blanc of The Fight Spot
Snoskred of Life in the Country
Jeff of Jeffro 2pt0
Ron does a real nice write up on all these folks and explains the award a heck of a lot better than I can so be sure to stop in and check it out.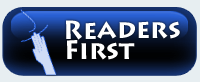 Of course I had to have the blue one. And I believe the smaller version will fit just fine in the sidebar. Sounds good to me and thanks Ron!
***************
Okay, that's it for this second edition of the JT Evening News (published whenever I feel like it). I'll be "minding the store" over at my wife's Quilt Shop over the weekend while she does a show for the local Fall festival in the (almost) neighboring town of Island Pond. And since there's an arts and crafts fair in Newport this weekend as well, things should be fairly quiet at the shop.
Maybe I'll be able to catch up on some reading, ya' never know. 🙂