Beating on WordPress Bugs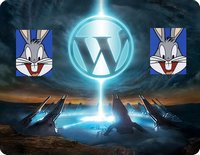 Yes, WordPress 2.5 RC1 has been released to the public and I, along with many other folks who are "Much More Qualified" than I am, have been beating the bugs out of it. I even joined the wp-testers list in hopes that I might help in this endeavor and the other "Much More Qualified" members have been regretting it ever since or at least tolerating it very well. So far I've managed to reply with some hard worked test results to the wrong posts, misspelled every other word greater than 2 syllables and Overlooked the Very Obvious but hey…you gotta go to the next level sometime don't you? It's been a long time since I troubleshot problems like this.
I'm having fun though…I think.
Of course I'm coming to realize that if I really wish to become effective at this (praise the patience of the "Much More Qualified" members of the wp-testers list) then I'm going to have to buckle down and learn a lot more about PHP, SQL databases and CSS and how it all applies to the WordPress platform. I figure if I put my mind to it I might be up to speed by the time WordPress 2.6 comes out about this time next year.
And I'm wondering why my head is spinning lately.
A customizable dashboard, multi-file upload, built-in galleries, one-click plugin upgrades, tag management, built-in Gravatars, full text feeds, and faster load times sound interesting? Then WordPress 2.5 might be the release for you.

Source: WordPress Developers Blog
Ironically enough it's the WordPress "old timers" who might have the most problems with the new admin layout while it's the new WordPress blogger that might find it much easier to learn than the previous versions were. Time will tell and all that.
If you're of the mind to try this out on a test or minor blog (it's still a pre-release and does have bugs you know) or are currently testing the new release candidate, check out Ryan Boren's WP 2.5 RC1 post and get the new feedback email address. If you have comments regarding the new admin design, this is where you want to send it.
In the meantime, I need some Alka Seltzer and a good night's sleep. 😛
Did anybody get the image? Anybody at all? WordPress Bugs? Ah, never mind .