This Blog is the Dog's Bollocks!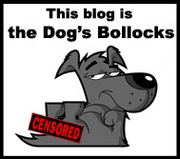 This blog has received it's share of (mostly) non-official awards and recognitions, Lord knows why, but never has it received such as a recognition as this…
The "Dog's Bollocks" award! An Irish flavored recognition if there ever was one and as far as I know…I'm the first. Now that's special alright.
The award and the subsequent logo is the creation of one K8 the GR8, daughter of Grandad, (scourge of whatever Irish county, town and/or village he happens to live in or at least that's what his blog depicts anyway) who is known to be "…not as green as she cabbage-looking". Personally I think she looks rather like a youngish, Irish (very), red-headed type female, somewhat rebellious in nature and quite pretty actually in my opinion but self images being what they are and all that…
The first time I noticed that she had called my blog the "Dog's Bollocks" was on a meme she stuck me with (which I'm a bit behind on getting done actually) as a "description" following the link to Just Thinkin'. And although my lineage is rather heavy on the English, Scottish, Gaelic end of things I simply had no idea what a "bollocks" was (but I had a damn good guess) so of course I had to look it up. It was then I became worried:
1. (UK, vulgar) The testicles (sometimes used in the singular) Yup, I was right.
2. (UK, vulgar) Nonsense or information deliberately intended to mislead. Uh… 
3. (Ireland, vulgar) An idiot, an ignorant or disagreeable person. Whut…huh? I am not!  
     "Don't mind him; he's only an oul' bollocks!" So this is an award?
Looking at the above definitions, this seemed like recognition of a rather dubious nature at best. But upon asking her about this the dear lady thankfully set me straight (probably had a good chuckle over it as well I'd imagine):
Dog's Bollocks:
Lit. Canine Testicles Uh…not the last time I looked…
Adjective phrase meaning excellent, or being of excellent quality. Usually applied to workmanship or build quality. Now that's more like it! 
"That car is the dog's bollocks mate"
I'm giving myself the benefit of the doubt and going with the Adjective phrase rather than the literal definition in this case. Makes me feel better anyway.
Of course I had to ask K8 if there was a logo of some kind that went with this fine award (I just had to have one you see) that I could proudly hang in my sidebar and in a day or so she whipped me up that most excellent logo you see above and in the sidebar along with 2 of the previous ones which were all I managed to find.
I am a bit concerned about the SOB award I received from ( the ever wonderful) Liz Strauss before this blog…uh…"evolved" into what it is today, whatever the hell that may be. It's not that I'm not the same lovable, 'community oriented', 'help your neighbor' type of guy that I guess earned me that award in the first place but let's just say I've let more of myself come through within the last year or so—tends to add a bit of crust/grit/salt into the mix shall we say. Perhaps I wouldn't qualify as an SOB these days…or at least not in the "Successful and Outstanding Blogger" way she means it too be, who knows?
Either way, I'm proud to hang both on on the "wall" here at "JT" (Man! I just love having my own acronym!). Kinda' shows me that I'm still able to be diversified without alienating one set of folks from another. I love being able be myself without folks tossing yesterday's veggies in my general direction.
Thanks K8! I'll endeavor to live up to being a "Dog's Bollocks" as well as an "SOB". It's a hard job indeed but someone has to do it. And I promise to get that meme done. Shouldn't be hard seein' as how complaining is one of my specialities.