I don't often write a post about my Lady Laurie, not because she isn't interesting (she most certainly is) or that she isn't rather unique (she has the uniqueness market cornered) or that she isn't even somewhat unusual at times (I plead the fifth), it's simply because she's promised me that if I did write anything about her beyond mentioning her name only I would shortly thereafter find myself missing a few vital parts. And since I'm rather fond of my parts I've abstained up till now.
However, this time it's different. This time it has to do with wallpaper so obviously it's an important topic.
You see, I put my foot down (I begged her permission) and told her I was going to write this post (she gave me her permission) and there was absolutely nothing she could do about it (I have to do the laundry and feed the cats for a year). And now that I've finally set things straight (I should be able to walk upright within a couple days), here it is.
Laurie's wall paper psychology
The idea here is simple and concerns desktop wallpaper. That's right, that image/photo/drawing or what-have-you that one plasters all over the desktop of one's Windows/OSX/Linux-distro-of-one's-choice. Now, I don't know if any of you have some sort of personal psychology or belief system that lies behind the wallpaper you might choose to adorn your desktop other than it's a darn nice image/photo/drawing or what-have-you but seeing as how people are people and how people as individuals can be very, shall we say, unique at times I thought Laurie's chosen wallpaper would be a fine example of how this type of wallpaper psychology might work. It does for her apparently.
Disclaimer: the following "wallpapers" are not guaranteed to fit the width of your oversized 28 inch display. Some of them might not be even as big as 300 x 400 okay? Also, neither the author nor his lovely wife are liable if these wallpapers don't prevent or engender anything in particular nor if you do or do not receive enlightenment, get hit by lightening and/or blown up by a nuclear blast or any other foolish thing.

One other thing: I'm not poking fun here simply because it actually appears to work.
***************
The first one's easy. It's obviously aimed at promoting peace and contentment within herself when she is feeling a bit anxious or is just generally pissed off at the days happenings. (click images to en-zoomen)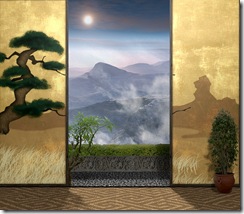 The second one deals with enticing her to fall asleep at day's end. Apparently it is said that thinking of a waterfall helps you to fall asleep so this one often adorns her screen before shutting down for the night (she hits the pillow and is out like a light. I, on the other hand, just lay there awake for hours and grow older).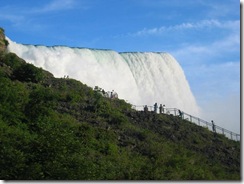 Now we get a little deeper. This next one is to prepare her, at the beginning of the day, to be annoyed. This is to prevent her from, you guessed it, becoming annoyed.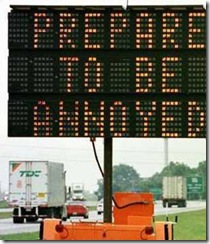 This one deals with my honey's disaffection with thunderstorms, it's associated lightning and the prevention thereof. This wallpaper goes up every time a special weather statement about bad thunderstorms coming our way hits The Weather Channel. The scary thing about it is that while everyone else around us is getting clobbered—we're not.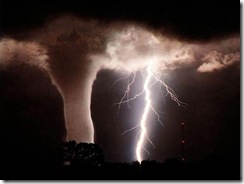 And, of course, to protect her from the effects of the full moon: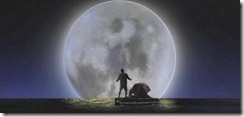 Last but not least, these last two have a dual purpose. The first and foremost purpose is to prevent her from blowing up at people when they're not being reasonable (spelled: Anal-Retentive-Morons). The second purpose is to keep us and everybody else from being blasted to pieces by a nuclear explosion. Or several of them for that matter. A fine preventative measure if you ask me.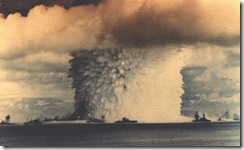 So there you have it. How to steer yourself around life's everyday challenges via your desktop wallpaper. And if anyone is wondering what I use for desktop wallpaper…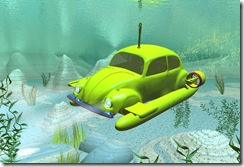 Good thing I have her around isn't it?