Rainy and Green and Rainy
I'm currently siting in my easy chair with my trusty old ThinkPad R61 laying upon my lap (instead of the cat for once) and gazing out of the sitting room windows at a very green, very rainy day. Much like yesterday was and the following two days will be according to the forecast. The lawn needs mowing of course, but that will obviously have to wait.
Fine with me.
It's been a most gorgeous Spring around these parts and life of all types, from trees to bees and everything in between seem to be in unusual abundance. More blossoms on the trees and bushes than I have ever seen in my area to date, more birds of differing types and, as usual, a plethora of hornets which I will have to do battle with eventually. All in all a most beautiful Spring indeed.
For instance. This is just a sample of the view from my deck from the other morning when I went out for a breath of fresh pollen air. I can't include the sound of the river across the road, the birds singing in the trees or the sound of the woodpecker peckering on the ridge–you'll just have to use your imaginations for that part.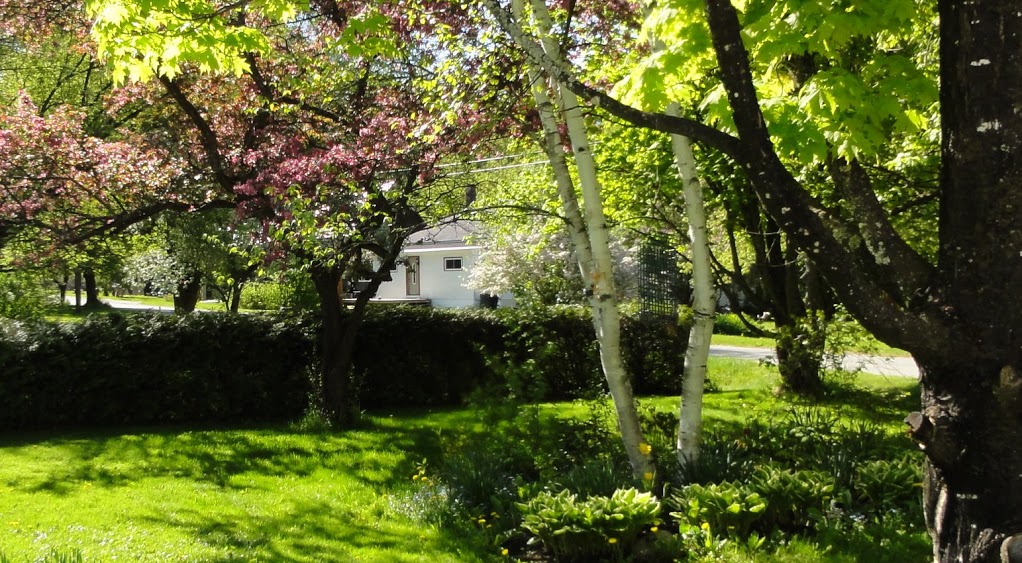 The camera doesn't do it justice of course, but you get the idea.
Thankfully, the weather is supposed to clear up and give us a sunny albeit chilly (50s) Memorial day weekend but hey, this is Vermont after all. This means the tourists who will pile into the area as usual will probably be wearing coats and complaining about "how cold it is" while the natives will all be standing around in shorts and T-shirts eating ice cream at the local ice cream shoppe and having cookouts and barbecues and saying what a fine weekend it is.
For myself, it will be a fine cool time for going outside and getting some work done or at least as much work as my body will allow anyway. Either way, if the current Spring is any indication of how the coming Summer will be, I have no complaints whatsoever.
Have a fine day.