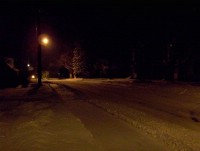 A small but effective storm hit the Northeast Kingdom today and laid about 8″ or more around the general area sufficient enough to make the whole area look like it really was the middle of Winter instead of looking like it was just before mud season. Won't help the snowmobile trails at all but those have just about been given up for a total loss this year anyway.
It eventually changed to sleet and freezing rain for about 2 hours before finally ending this evening which was just in time to make everyone leaving work have to scrap the accumulated ice of their windshields but considering we've had it easy around these parts so far this winter, we can deal. Plus it was nice when Laurie and I, cold and tired, arrived home to find that Laurie's youngest son had fired up our old snow blower and took care of the driveway before we got home. Bonus! Thank you, thank you, thank you!
So after supper I ran outside with my trusty old "point and shoot" and took a picture of the street that runs by our house. Considering I didn't have a jacket on when I went out, I wasn't too picky about the quality but with a little help from one of my image editors it came out good enough so you can get the idea of what we ended up with. Like I said…just enough to make it feel like winter.