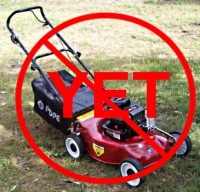 Oh man, I just can't stand it! With all this unusually gorgeous weather we're having around here I have this god awful desire to mow the lawn!! I just gotta  mow the damn lawn!!
Okay… alright, I can handle this now. The grass isn't up yet…it still thinks it's…well…April fer heavens sake and April in the Northeast kingdom is not supposed to be up in the 70's for days on end. It's supposed to be in the 50's around here, I mean we've had snow storms on April, wet heavy things that leave a foot or more of the kind of water-logged snow that the plow guys and gals absolutely despise due to one plow blade full usually equals a half a ton of snow they have to push around. Tends to break welds and mounts on the plow and tear up lawns and such.
But now they don't have to deal with this but I have to deal with my normal obsession with a clean cut lawn which usually doesn't rear it's ugly head until the middle of May or so.
I know, there's still small twigs and a few leaves in the lawn that I couldn't get up with the rake. Yeah, I could get them up with the lawn mower! Yeah…it has a bag on it, it's self propelled so I probably won't hurt my bunged up back too much. Yeah…yeah…I could do that! I could just run that around the lawn, clean it up a little…
*Sigh*
Maybe I better just go sit down at the waterfront for awhile instead. Keep me out of trouble and the neighbors from looking at me funny. The mower would probably appreciate more.