The Tree Cometh Down-Misses the Bench
We're in the middle of a severe thunderstorm and Tornado watch here in the Northeast Kingdom (a Tornado Watch in Vermont?) believe it or not and during as the very beginnings of the line of storms preceding a rather large cold front hit the Newport area, we got slammed with a huge amount of wind. This wind came roaring through the area, lasted about 90 seconds which was lasted just long enough and was strong enough to take down my neighbor's old maple tree.
Check this out: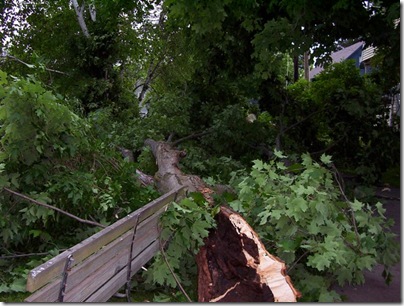 Missed the bench by less than an inch.



Missed his lamp post too.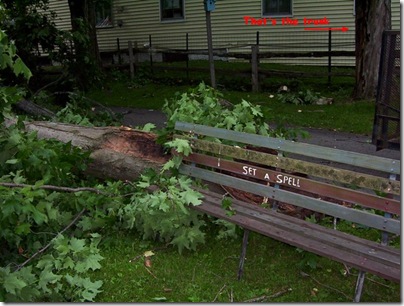 Think I would have been safe sitting there? I believe I would have.
The storms aren't over yet, they have the warning out until 6:00 PM so I do believe I'll head over to Laurie's quilt shop and help her to close. She's not too keen on these kind of storms you know.
And it looks like we'll be running the chain saws when this is over…ya' think?