DoFollow Spam and Other Comment Type Improvements

Within the last several months there's been a change in the comment spam that's plagued bloggers ever since the dregs of society first found out how they could benefit from leaving their crap in the comment sections of posts. You know the type; 20 offers for prescription medications along with another 15 offers to "stiffen our resolve" as it were.
These "spamments" used to be left by spam bots (the spammers got lazy in other words) but recently it seems humans have gotten back into it since anti-spam type plugins have become so effective. So now I've been getting these types of spamments of late (not all of them have been this good but there's been quite a few):
I'm not really sure we would all be in trouble that quickly…let me explain. Let's assume they did actually come up with a drug that did extend peoples lives to 100 years old. Well, you know it would be under patent, so for 17.5 years, it would be expensive as gold, so only the rich could afford it. Even after the patent expired, the generic version would probably be expensive, so probably only the middle class in developed countries would be able to afford it. So, at least we would have a little bit of time before the world population numbers started exploding.

But, unfortunately, the ultimate effect of something like this would be to send the population number sky high. Could you imagine a world with 20 billion people in it? It's possible…with life extension.
This one I found lurking in the comments section of a couple posts back. It was left by a guy called "Electronic Cigarettes". Now that's a fairly well thought out comment, the type of comment I'd be glad to see here at Just Thinkin'–but not by some guy named "Electronic Cigarettes".
And he's not the first, not by a long shot but rather than getting into a long dissertation about the other types of sweet smelling human generated garbage comments that keep coming my way, I've decided to finally make some changes here.
I've turned off "DoFollow" for this blog. It's become a spam magnate for these new types of spamment. Don't know how much simpler I can put it than that. Every time I leave the plugin activated lately I end up with a dozen or so of the above type comments per day and it pains me to dump some of them (like the one above) simply because they're so good. However, if I deactivate the plugin, within a few days these types of "spamments" stop coming. So after many weeks of deliberation and arguing with myself—off she goes and I'm really sorry about that.
But not to leave everyone in the lurch I've added the CommentLuv plugin to my repertoire of WordPress plugins for everyone's enjoyment. I've seen this thing in action every time I stop by Sixty's or Grandad's place of business and I thought this might be a fine way to make up for having to turn off the link Luv so to speak.
And last but not least, there's this: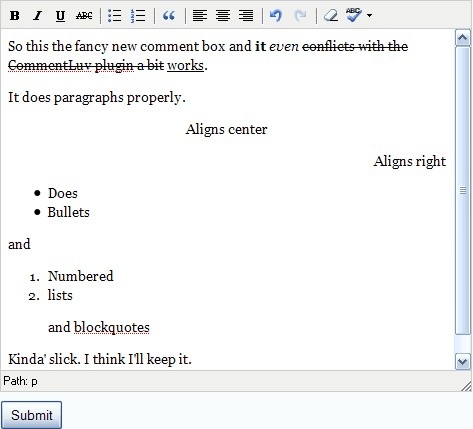 I also followed Grandad on this one and installed the TinyMCEComments plugin in order to fancy up my comments box. Unfortunately it has a slight problem with CommentLuv in that if CommentLuv's check box is checked before the website field in the comment form is filled in, CommentLuv won't work. If that's what happens to you then just recheck the box and all is well and I left a little reminder about this down below the comment form.
*sigh*
It's always something.