Russian Subs Off East Coast a Surprise?
In case anyone missed the big headline today, the US (Navy, most likely) has "discovered" that two Russian Akula class fast attack subs have been patrolling approximately 200 miles off the east coast of the United States.
Oh, really? What a surprise.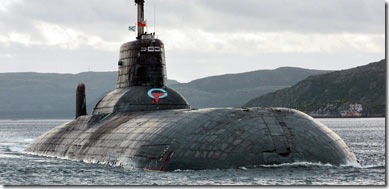 Russian officials responded vehemently to accusations that they were dabbling in Cold War-style cat-and-mouse manoeuvring but did not deny that two vessels had entered international waters just 200 miles of the US coast.

"Activities of Russian submarines in the world's oceans outside their own waters do not violate international maritime law and are within normal practice," a military-diplomatic source told the Russian state media.

Nuclear submarines off US coast 'nothing to worry about' says Russia – Times Online
As a veteran (fast attack) submariner of the Cold War, I can assure everyone who might read this that the only surprising thing about this event is that it actually made the news. Russia/The USSR has had it's nuclear powered subs patrolling off our coasts both east and west ever since their first nuclear subs rolled out of their dry docks. The only difference between then and now is that back then this kind of thing would have never gotten out in public view…ever.
In my opinion, just the fact that this story was released tells me that our government is simply and blatantly letting the Russians know that we found their subs (of course we did, our Anti Submarine Warfare [ASW] technology is still well beyond theirs) and at this point those two subs might as well head for home since their "covertness" has just been blown. Something that is not supposed to happen under any circumstances with the possible exception of an on-board accident that immediately threatens the lives of the crew and loss of ship such as a reactor accident. Otherwise standing orders for any nuclear sub is; "And don't let anyone find you, understand?"
In short, I wouldn't want to be the commanding officer of either of those two Akulas tooling around our front yard 'cuz they're are going to catch hell when they get home.
The simple fact is that Russian/Soviet subs have always been there and, for the unforeseeable future, always will be. The (implied) threat is no greater than it has been in the past and by the same token, so is the threat of nuclear war—no different than it ever has been. That is until the Middle East countries and perhaps North Korea finally "get the bomb" at which point we're all pretty much screwed.
Have a nice day. 😀