Blogilo. An excuse for a test post
A very small portion of you (Hey, Grandad) know that I'm not using Windows and haven't been for quite a few months now. I've been using (gasp) a Linux Distro.
Yeah, that's right, I pretty much ditched Windows and stayed on Linux for just about everything I do on my computer. In fact, I haven't booted into Windows (7 RC) at all for the last 3 months except to throw some updates at it now and then (and to the anti-virus suite of course). There was just one fly in the ointment of Linux contentment for me…
No Windows Live Writer.
I simply don't like the built in WordPress post editor, I always have. I actually felt sorry for bloggers using Mac OSX because they couldn't use Windows Live Writer on their machines. They were stuck with using the WordPress editor or having to actually pay for one they could install locally. Now here I was in the same boat.
Of course, being the old geek that I am, I then learned all about installing an old copy of Windows XP Pro into a virtual machine but that's another story altogether.
Then today, while looking at all the cool stuff that KDE 4.4 will bring to Linux table, I saw something called Blogilo (used to be called Bilbo Blogger until someone complained about a copyright infringement) that will be included in the default packages for 4.4. And since I just happen to be running a KDE flavored version of Linux Mint 8 (still in release candidate form, mind you) I checked to see if the package manager knew anything about a Bilbo that didn't involve a rather small Hobbit.
It did and it wasn't. So I installed it.
This is what it looks like: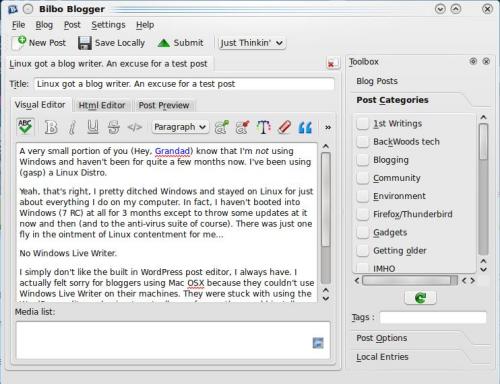 It wouldn't really be fair to compare this rather new KDE blogging client to Windows Live Writer since Blogilo just managed to reach version 1.0 recently while Windows Live Writer is a very mature product that first hit the scene sometime in 2006. It's had more than enough time to add all the bells and whistles and get them working together smoothly including supporting WordPress powered sites directly. Hard thing to live up to.
For instance, I had to upload a larger image of the one above (sort of, I'm making this up as I go along) to Flickr and then link the image in the post to the larger one since Blogilo can't generate it's own thumbnails yet and…
Well, never mind all that.
Besides, this isn't a review, that would be more appropriate for that other tech flavored blog that I never seem to post to. This is just an excuse to write up a post using the thing. In fact, I'll have no idea if it will even post properly until it does. So without further adieu, I think I'll just post what I got, check it out and come back and let you know what happened. Okay?
So here we go…
Edit: Well, that wasn't so bad. I'm pleasantly surprised actually. It uploaded the image, the post and everything within a few seconds. It even added the link inside the image to the larger Flickr image. For this edit I merely corrected some minor grammatical errors and such. Oh, it has it's quirks and unfinished bits here and there but for general blogging, it should work fine.
And as a bonus it does have the one thing I absolutely require in a blog writer…
A spel chckr!