How much wood could a woodchuck stack?
First, I want to state, with no mistake, (in fear of my life) that I am not calling my wife a woodchuck. She has already made it very clear that if I ever did that I would die a very painful death.
That being duly said, our first 2 cords of green firewood (out of an order for 6 cords) arrived a couple days of days ago…at night…in the pouring rain. And, after the load was dumped by our little wood yard, we stood in the pouring rain while our wood guy, a real "old timer", reeled off a couple of old but grand jokes that had us laughing heartily despite the fact we were slowly drowning. But since we were in raincoats and he was not yet was obviously thoroughly enjoying himself with our company despite the downpour, we decided to stick it out lest he think of us as wimps. Besides, it's not often you find good, old fashioned "old timer" types around these parts anymore.
Now I'm under yet another pending death sentence here that involves our firewood in that I'm under strict orders not to touch any of the green firewood in any way, shape or form on pain of death! (again). This order comes straight from my lovely lady who, despite the fact that she does indeed love me, swears she will kill me, bring me back to life then kill me again if I attempt to stack any of that firewood. I would surely put my back out and strain my re-plumbed abdomen if I tried and what use would I be to her if that happened? Who's going to split the dry wood, huh? Who's going to run the snow blower?
No, stacking next year's wood is her job so hands off!
Being the practical lady she is, she planned to pace herself and do an hour of stacking in the morning before she headed off for her quilt shop. Have it done in 3 or 4 days, no sweat she said (well, maybe a bit of sweat). Unfortunately the weather didn't cooperate at all. She had a row and a bit more stacked when the radio announced that we were in for 2 continuous weeks worth of snow flurries, showers and squalls. The type of weather that can leave 4 to 8 inches within a matter of a day or so depending on how motivated it is. So there was obviously no choice in the matter.
It all had to be stacked and stacked right now, so the situation went from this: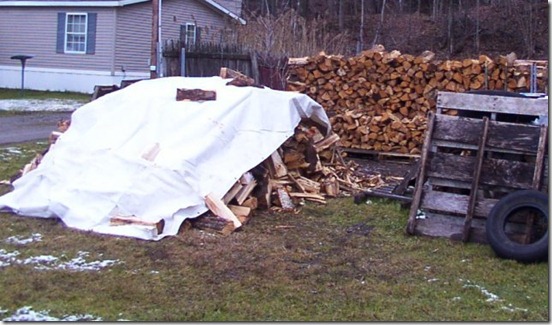 To this: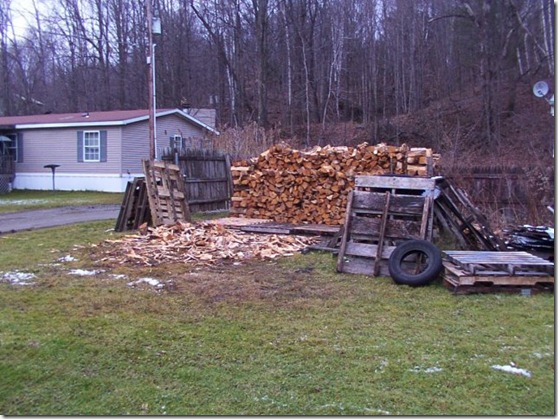 And all in an afternoon. Proper end stacks and all. What a gal!
I did go out and split more wood for the wood stove the next day and I, at risk to my life for violating the "don't touch my green wood!" directive, raked back the pile of left over wood shards and chunks so the next row of pallets could be laid down. I mean, I just had to participate in this process somehow.
Just so you know though, my side of the deal is that I move all 6 cords of seasoned firewood into the woodshed next Fall. I also mow the lawn, split the wood and run the snow blower like I said so I guess it's a fair trade off.
And since the first 2 cords are all nicely stacked, I have called our wood guy to let him know that it's safe to deliver the next load. I'm sure my wonderful girl will recover enough by the time he makes the delivery to stack the next 2 cords.