Death by Snow Shovel | Cleaning up after the storm
Well now! That was one heck of a Groundhog Day wasn't it? Haven't seen a snow like that since I lived up by the Great Lakes in upstate New York when I was a kid. But I didn't realize how big the actual storm was until I saw this image: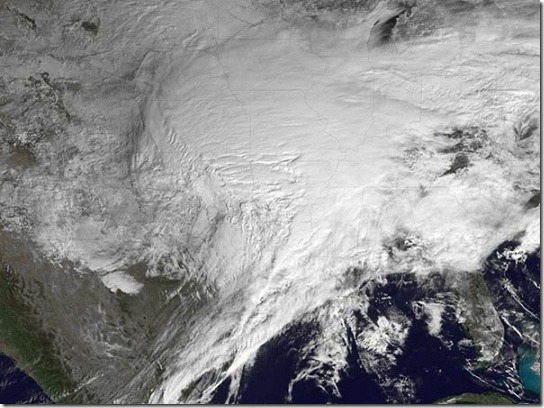 Now that's a big storm!
When it was over the storm had covered 33 states and was responsible for the cancellation of 13,000 flights as well as chaos on the roads, in the cities, power outages and all the other wonderful things that come with a winter storm like this one.
Closer to home and even protected by mountains on 3 sides, we received around a foot and a half of the stuff and although the snow was the light and fluffy kind it didn't take too long before it began to pack down into a semi-solid base that would have made the task of removal all that much harder if we didn't keep up with it. So, with the storm in full force, out to the shovels and snow blower we went. Overall, it took my lady and I two days to dig completely out and get everything cleaned up. With the previous snowstorms leading up to this Groundhog Day monster we now have a solid three feet on the ground and deeper in some places.
The snow on our old deck table should give you a fair idea of what's on the ground right now: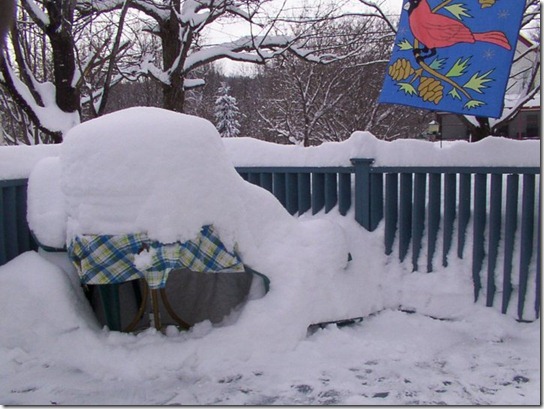 Of course the clean up wasn't without it's little interesting moments. Like when the carburetor fell off the old snow blower half way through the second pass of the driveway. This was on the second day of digging out so I was glad it didn't happen the night before when spotting fallen bolts and such would have been impossible. With a much longer easement to go, the small wood lot to clear and the various paths that make the rounds past the woodshed, propane tank, back deck, bird feeders, our wood ash dumping spot to the the tree line in the upper lot…this was not good.
As it turned out I found the carburetor gasket on the blower deck and one bolt in the driveway and I only found that because the bolt was rather warm when it hit the snow and had melted a bolt shaped hole that was fairly easy to find. The carburetor itself stayed on the machine for the most part although not in the place it should have been. After a trip to the local repair shop to pick up another bolt and a half hour of freezing my hands off reattaching the carburetor to the engine (and replacing the heat shield, etc) I was off and blowing the snow once again.
Laurie on the other hand had shoveled until she dropped and was at that point laid out in the chair by the woodstove resting up for the next round. I was glad of it since she has a habit of pushing well past her limits and I was much too tired at that point to carry her into the house. Okay, I have the same bad habit but we agreed long ago that if we were too stupid to quit before passing out and ended up face down in the dirt…or snow in this case…we deserved to stay there.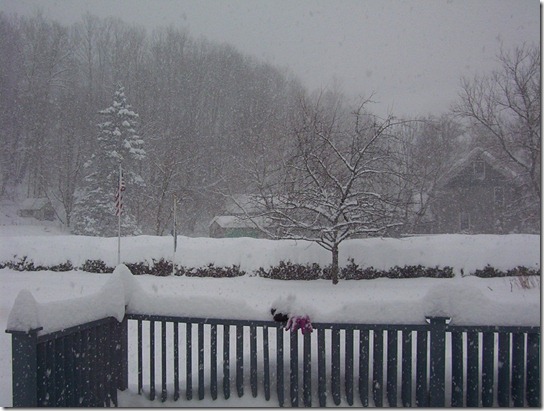 Now I never intended to go up on the roofs but after lunch was over I somehow found myself standing on our woodshed/toolshed roof, thigh deep in snow with a shovel in my hand and a long suffering look on my face. To me it seemed as if that 3 feet of snow was an acre wide. It felt like it too since it was 6 shovels over the side to 3 minutes of leaning on the shovel's handle gasping for breath. At this rate I figured I'd have the roof clear by Saturday.
But then Laurie, coming freshly thawed from the heat of the woodstove, came to the rescue and despite never being on a roof before, hiked up her snow pants, hauled herself up the ladder and commenced into some rather intense shoveling all with her nose fairly planted in the snow itself. After watching this furious, nose to the snow activity for several seconds I kindly suggested that she might pace herself a bit mainly because just the act of watching her furiously shoveling snow over the side was making me even more tired than I was already was. She stopped for a second, looked up at me with wide eyes and told me she couldn't possibly allow herself to slow down. I asked why she couldn't of course and she responded that if she slowed down she might recall that she actually was, in fact, up on a roof!! I took this as good logic on her part and didn't mention it again (I do love that woman).
Now it was down to using the roof rake on the house which my honey undertook to do. She was so happy to be off that blasted roof she had all the lower roofs cleared off before she had a chance to realize she was exhausted all over again. And with one last round on the snow blower to clean up all the snow we dropped from the roofs on our previously cleaned—we were done.
All in all, the clean up was a success especially in the fact that both of us are still alive and mostly functioning. Now which parts are mostly functioning I can't say, we're still trying to figure that one out. All I can say is thank heavens for aspirin and 3 high pressure systems covering the country right now…
Wait, what do you mean there's a winter storm warning for Vermont!?!