Well, well, 2014 has finally arrived on a chill wind and below zero temperatures which means it's time once again for a Yet Another New Year's Resolution Post or YANYRP for short.
To be perfectly honest about the whole thing, I scarfed the following image off a Google+ post made by a friend of mine including my reply as I figured I really couldn't top that "moment-of-inspiration" I had when I first read the check list below–inspired mainly because I couldn't understand most of it.
Anyway, for what it's worth…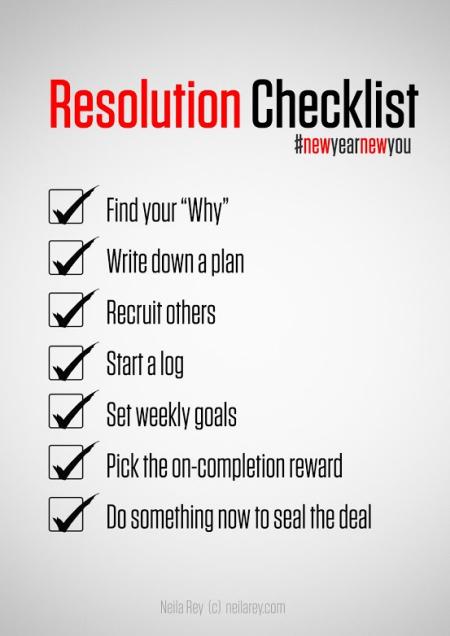 Find your "Why"
I know the "Why", it's the "What", "Where" and "When" that's gone missing.
Write down a plan
I wrote down a "Plan" but it's apparently gone off with the "What", "Where" and "When".
Recruit others
I actually "Recruited" 3 "Others" but they stayed for about 20 minutes, got bored and went off to find the "What", "Where", "When" and the "Plan". Probably figured they were having a more interesting time of it.
Start a log
I started the log and it burned very nicely, thank you. But it probably would have been better if I had put it in the wood stove first.
Set weekly goals
I've got all the parts to set the "Weekly goals" but it's winter in these parts, the ground is frozen solid and I can't get the posts in the ground. Guess I'll have to set my goals in the Spring, then?
Pick on-completion reward
On-completion reward? I'll pick winning the lottery every time. My youngest son-in-law and his wife needs a bigger place (they just won't stop having kids, you know). The trouble is, I never know when to stop so how do I know I'm complete?
Do something to seal the deal
And I'm just about to do something to "Seal the deal". I'm grabbing the "Why", a bottle of scotch and going off the find the "What", "Where", "When", the "Plan" and the 3 "Others" I recruited. They've  got to be having a better time than I am trying to make all these New blasted Year's resolutions!
All in fun, of course.
A Happy New Year's to all, then.