I've often found it strange how things come about in my life. Some things or events are actually planned insomuch as I have a vague idea of what I want to do/buy/cause-to-happen and an even vaguer idea when this thing or event should occur but, for the most part, things or events that occur in my life seem to be left in the hands of fate as it were. And since fate landed me in the good hands of my wonderful lady over 12 years ago, fate seems to have tagged along for the ride or at least assigned one of his (her?) apprentices to us for a bit of the on-the-job training.
Take for example this year (so not to bore the good reader with past examples from my long-past life…): We knew we had to replace our rather ancient (propane fired) power vented hot water heater but we didn't know it would be quite so expensive. Pretty normal occurrence all around. But we had no clue that our trusty old washing machine, which still had the protective plastic over the control section, would simply and permanently stop working one wash day–right in the middle of the rinse cycle of course.
Now the above would also seem pretty much par-for-the-course as far as normal life events are concerned but it did have a "touch-of-fate" to it since it occurred on the same day as our local Sears store had a rare sale on a top-of-the-line front loading washing machine which put it financially within our grasp. So, to make a long story short, we bought one of these new fangled, computerized, "high efficiency", front loaders and the laundry was finally finished and hung out to dry. It also plays music at us when we turn it on, when it's finished and when it turns off–I'm still not sure I'm comfortable with that. At least it doesn't talk to us?
But fate's apprentice was not through with us yet it seemed. Shortly after the washing machine incident, I told my darling wife of a Sunday that I was going to take an hour or so and indulge myself perusing the lots of the various car dealers we have around our area. I was planning on replacing our old reliable but rusting 2003 Jeep Liberty with something a bit newer and a lot less rusty. I wasn't intending to do anything until after September though but I tend to do 3 to 4 months of research before upgrading my vehicle. Hence going out on a Sunday when car dealers are supposed to be closed.
My criteria was fairly simple. Real 4WD, a class 2 hitch, reasonably low mileage, good condition and not rusty.
The first two dealers I hit were closed as expected but otherwise the pickings were more or less meh (Meh, good word that–perfectly describes the experience). The newer style vehicles are all pretty much meh to me these days anyway. No style, no personality and they all pretty much look alike be it sub-compact, compact, sedan, SUV or pick up truck. And what is it with the pick up trucks these days? The things are HUGE not to mention horribly expensive. And what happened to the small pick ups? I swear the so-called modern small pick up truck is as large as the 1986 Ford F150 I owned way back when.
So on to the next lot I went on my Sunday afternoon car-hunting jaunt. I cruised slowly by the lot and was about to pass it by since I didn't see anything that caught my interest when I spotted this: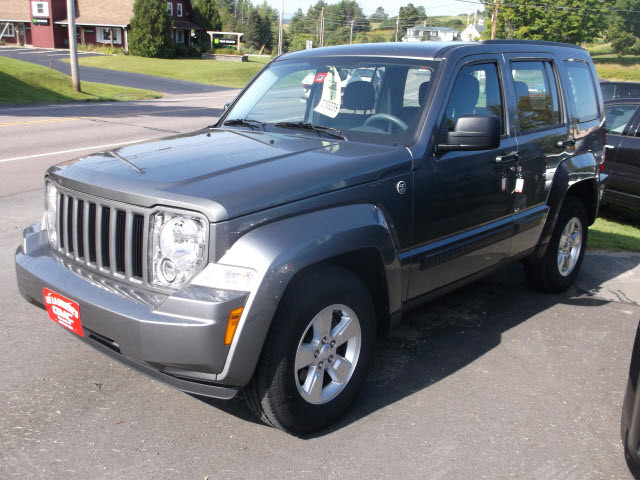 Okay, so…this was interesting. Worth a look anyway and safe enough since, as I said, I wasn't planning to replace the 2003 I was driving around in until after September and auto dealers are supposed to be closed on Sunday! Still, it was good research material. And here was where fate (or the apprentice) stepped in.
The dealer wasn't wasn't closed even though it gave every sign that it actually was. A young guy came out dressed in a t-short and shorts to which I stated, "You're supposed to be closed!", to which he immediately threw up his hands and backed away from me as if I had pulled out a gun and pointed it to his forehead. I took pity on him though and asked him the particulars of this vehicle and in short, to the point terms (no sales talk whatsoever which impressed me a bit) he did:
2012 Jeep Liberty.
18,220 miles on the odometer.
Leased for 1 year by some guy in Massachusetts.
They had just put it on the lot that weekend (late Friday afternoon).
In short, it was sitting in my driveway Monday afternoon. I got a good amount for the old 2003 (much to my surprise considering the mileage), it's financed through the same local bank that the 2003 was and at the same payment, they swapped over my nearly new tires from the 2003 to the 2012 and I'm scheduled for a class 2 trailer hitch installation tomorrow, the price of which was included in the price of the vehicle. The price of everything and the interest on the loan was surprisingly enough, very reasonable.
But fate wasn't done quite yet. On the Wednesday following the Monday I bought the 2012 I was back at the dealer waiting for the tires to be swapped over and I spotted a 2002 Chevy 1500 4WD "supercab" pick up truck sitting in their "yet to be inspected, cleaned and detailed" back lot. Despite the 140,000 miles on the odometer, the body and truck bed actually looked new, not a spot of rust on her. Inside the cab of course, looked like it had been driven all those miles but the wear for mileage wasn't bad at all.
So why am I looking at a pick up truck after I bought a 2012 Jeep Liberty you may ask? Well, I'll tell you.
My wife and I have a mutual friend and fellow disabled veteran who lives alone on top of a rather secluded mountain in a very nice house of her own design. In contrast to her very nice house is her only vehicle, a 1990 Chevy 1500 4WD "supercab" pick up that fell off it's "last legs" so to speak at least two years prior. Non-inspectable, running on 7 cylinders, more rust than solid metal and still she drove it–she badly needed a new truck.
I was looking over this 2002 and immediately thought of her.
I asked the young lad who sold my my latest vehicle about this rig and it turned out it was what they call a "one owner" who took immaculate care of it including undercoating it every year. He gave me the keys, I took it for a jaunt and was very impressed with it overall. 140,000 miles is nothing for a well-kept pick up truck by the way. The trouble is that well kept high mileage pick up trucks are a rare thing these days. Usually they're destined for the junk yard. But not this one.
It also was just traded in the previous day. What do you call that? Kismet or something? Fate intervened once again?
So, in the end, our friend is now driving around in the 2002 pick up truck instead of the rolling junk yard of the 1990 she had previously. Two vehicles that just by chance had just arrived on the same lot within a few days of each other which had just happened to be spotted by the same guy (me) who had no intention of buying anything or looking for anybody else.
And by the way, a week later I received I check for $50 from the very same dealer. A "thank you" as it were for the sale of that 2002 pick up truck. Now how about that?
All very mysterious and I'm tempted to ask, "what's next I wonder" but then again…
…I wouldn't want to tempt fate.