A brand new Subaru apparently had a Toyota moment while it's owner was backing out of a parking space in front of the Waterfront Plaza where my wife's business is located and jammed it's accelerator to the floor while still in reverse. The driver managed to get the car screwed around before it crashed completely through the front wall of the local Rite Aid drugstore that's neighbor to my wife's store but not before the car crashed through one of the steel posts holding up the overhang over the sidewalk that runs in front of the plaza and backing at speed down the sidewalk scarfing up the vinyl siding as it went and taking out two more posts before grinding to a halt just before it sideswiped the windows of my wife's store.
My wife was working near the window when this happened. Needless to say I got a rather intense phone call at home from a rather distraught spouse who was looking out her store windows at this: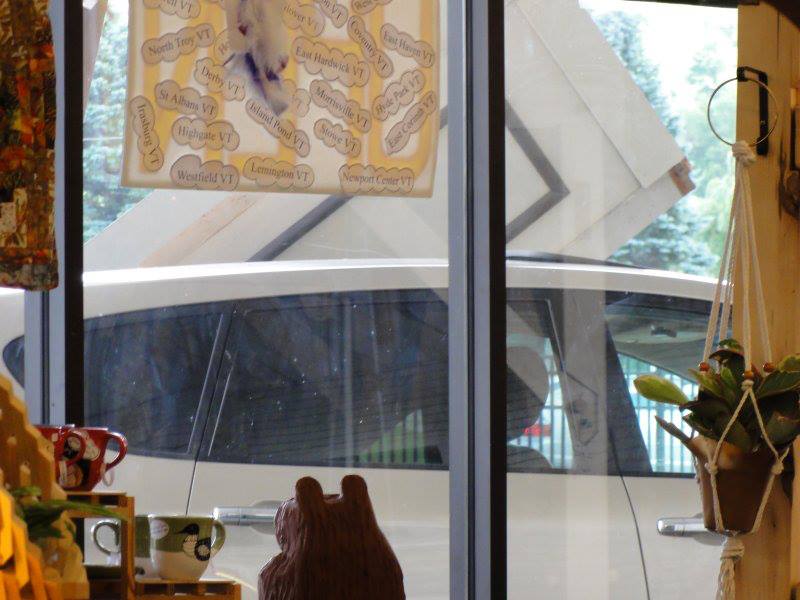 Needless to say I was over there inside of ten minutes. As crazy as the situation was and as crowded as it was in the plaza, miraculously no one was hurt and no other cars were damaged. The whole incident  probably lasted all of 6 or 7 seconds from the time the car was shifted into reverse till the time it came to rest where you see it now. I'll give kudos to the woman driver who manged to get the car turned around 90 degrees before taking out the front of the drug store along with a few cashiers in the process and attempting to get the damn thing off the sidewalk (hence the loss of two more posts along with their fancy wooden enclosures) and stopped at the same time before taking out my wife's store and possibly even my wife at the same time.
Having a new Subaru chasing my wife backwards around her own store would have put me quite out, I can tell you that right now.
Barricades have been put up around the sagging overhang in the store windows, the Subaru has been removed, dinner has been eaten (Chinese take out) and tomorrow is another day. Hopefully it won't involve parked cars stuck in reverse with accelerators jammed to the damn floor.